SEO.com.au is based right here in Australia.
Founded by by James & Daniel in 2008, our team has grown from a tiny 1 desk office in the CBD, to one of the most cutting edge digital agencies in Australia.
Seeing a gap in the market for a 'custom-first' agency, the company has been built around providing transparent service and result to our clients in what can be a confusing and complicated industry.
The most important thing in our business is our people. We pride ourselves on being the very best digital talent, and we're constantly learning to ensure we're always ahead of the game.
Our office is a light filled warehouse space, which helps us to work well collaboratively, as well as take breaks to battle it out on the foosball table of NBA Jam machine (yeah, it's a bit cliche but we like what we like).
We've got some big plans for this space, and we would love to take you along for the ride.
Meet the team
We're a team of talented digital professionals, hungry to see success for our clients, and continually exceed expectations.
James Richardson
Founding Optimising with Daniel in 2008, James has enjoyed working with 100's different clients over the years.
His favourite clients are those that are open to new ideas and willing to invest the time to see the results through. He loves nothing more than getting his teeth stuck into a new ecommerce store or large scale retail business.
When he's not spending time with his young family, he enjoys running, travel, and watching as many NBA games as he can squeeze in.
---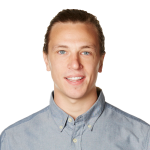 Daniel Zuccon
Daniel Zuccon has been building websites since the 90's, and hasn't stopped being interested since, although now he's more focused on helping our clients rather than building MySpace templates.
The owner of a pair of Golden Retrievers, when he's not busy keeping them out of trouble, he's flying his drone or riding his Boosted Board.
---
Adam Kelly
When Adam isn't helping businesses both large and small dominate their competition through search engine strategies centred around success, he is perfecting another talent of his: electric skateboarding, for which he is currently ranked #1 in Australia*.  (*verification required)
---
Trishan Naidoo
Trishan is a paid media specialist, assisting clients to create highly effective, data-driven campaigns primarily on Google AdWords and Facebook. A Google AdWords Qualified Individual, he has several years of experience working with businesses across a vast range of industries.
---
Brodie Clark
Brodie joined the team after a few years working in the Brisbane SEO scene. Wanting a fresh start at SEO.com.au – he is well positioned to help with your organic search needs.
---
Lachie Wells
In Lachie's first 'real job' he wrote classified ads for the Saturday papers. If he missed the 12pm Friday deadline, the client would have to wait an entire week for the next chance to be seen! Thankfully a lot's changed since then, in a short amount of time too. Despite what his employment history suggests, Lachie is still under 60 years old.

When he's not working on a client's campaign or developing his SEO knowledge, Lachie is zipping around Melbourne's north on a fluorescent green bike.
---
Cayla Demske
Cayla is a Beyoncé fan who can crunch a few numbers, in that order.
Starting her career in HR at an insurance company in Wisconsin, she moved to the big city of Melbourne in 2014 to complete her Masters. She's found her niche working in accounts, so if you have questions about your account or invoicing, you know who to call.
---
Nathan Davies
As our resident BDM, Nathan has a passion for all things digital, and while having over 12 years experience in the field, he is still fascinated by the continuously developing nature of search and digital marketing.
He thrives on finding out what makes each business tick and works with a broad range of clients, big and small, each with individual business objectives and needs. Finding the right strategy for each is what gets him going.
Outside of work, he enjoys complaining about his favourite soccer teams, losing arguments with his dog and roaming the globe.
---
Find out how your local team at SEO.com.au could radically improve your online marketing - call us for a chat or enquire online now.